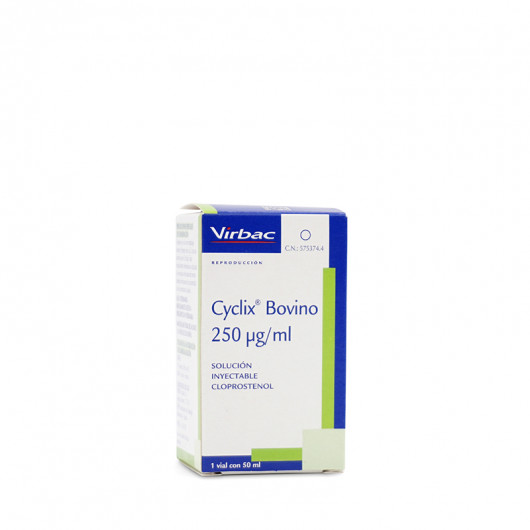 Cyclix bovi 50 ml. inj.
Prostaglandin hormone indicated for reproductive treatments; induction of labor, synchronization and induction of heat, induction of abortion, treatment of the persistent corpus luteum, among others.
Active principles:

Cloprostenol sodium

Target species:

Bovine

Laboratory:

Virbac

Prescription:

You need a prescription
Data sheet
Pharmaceutical form

Injectable solution

Administration routes

Intramuscular via

Dose *

2.00 ml / animal Via IM

Withdrawal period

Meat: 2 Days
Milk: 0 Days

Contraindications

Gestant animals
Respiratory diseases
* Doses taken from official sources
Veterinarian prescripcion it's needed
Any doubts?
Contactanos por teléfono, WhatsApp o email