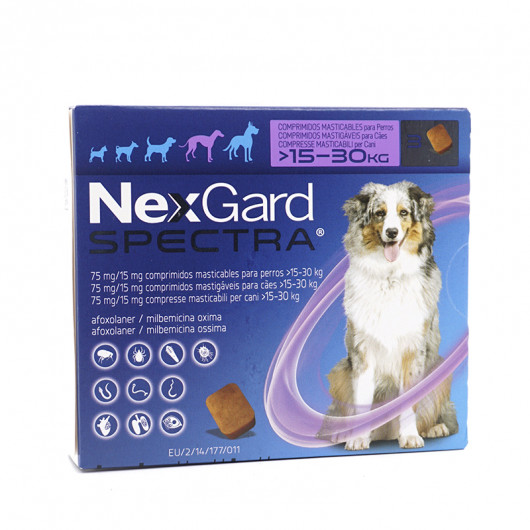 Nexgard spectra 15-30 kg 3 cds
Insecticide, miticide and antiparasitic for the treatment of flea and tick infestations in dogs when the prevention of heartworm is indicated at the same time. It is also indicated for the treatment of infestations by gastrointestinal nematodes, demodicosis and sarcoptic mange and prevention of angiostrongylosis and thelaziosis.
Active principles:

Afoxolaner
Milbemicina oxima

Target species:

Dogs

Laboratory:

Boehringer Ingelheim Vetmedica Gmbh

Prescription:

You need a prescription
Data sheet
Pharmaceutical form

Chewable tablet

Administration routes

Orally

Dose *

1 comprimido / animal 15 -30 kg

Contraindications

Do not use in case of hypersensitivity to the active substance / s or any excipient.
* Doses taken from official sources
Veterinarian prescripcion it's needed
Any doubts?
Contactanos por teléfono, WhatsApp o email