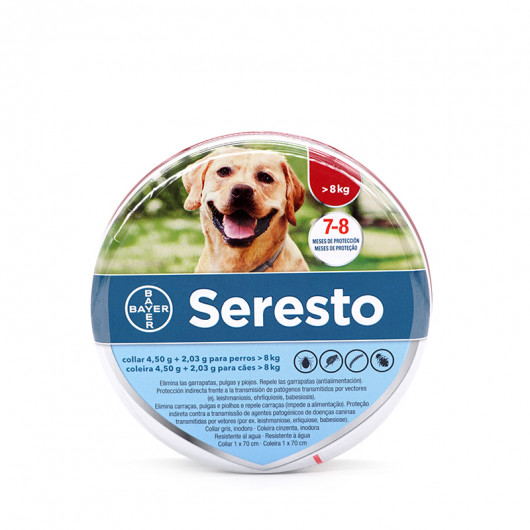 Seresto collar perros > 8 kg grandes
Antiparasitic collar for dogs for the prevention and treatment of flea infestation for 7-8 months. Protects the immediate environment of the animal by inhibiting the development of flea larvae for 8 months. It can be used as an adjunctive treatment in allergic dermatitis caused by flea bites. The veterinary drug is effective against tick infestations for 8 months due to its repellent effect (anti-feeding) and its acaricidal effect (death of the parasite). It is effective against larvae, nymphs and adult ticks. The collar indirectly protects against the transmission of the pathogens Babesia canis vogeli and Ehrlichia canis and reduces the risk of infection by Leishmania infantum. Treatment of biting lice infestations.
Active principles:

Presentations:

Target species:

Dogs

Laboratory:

Bayer Animal Health Gmbh
Data sheet
Pharmaceutical form

Necklace

Administration routes

Cutaneous use

Dose *

1.00 collar / perro mas 8 kg

Contraindications

Puppies under 7 weeks of age
Do not use in case of hypersensitivity to the active substance / s or any excipient.
* Doses taken from official sources
Veterinarian prescripcion it's needed
Any doubts?
Contactanos por teléfono, WhatsApp o email