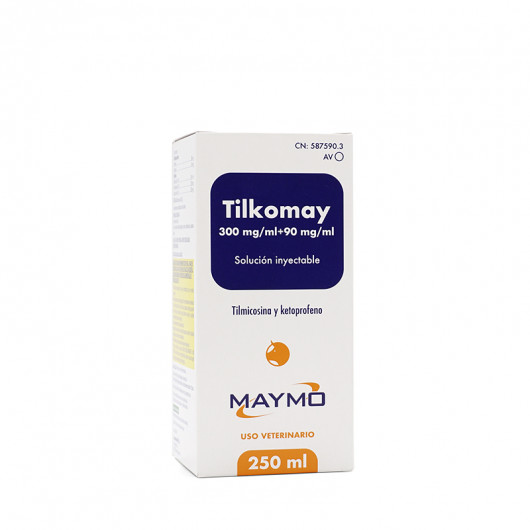 Tilkomay 300mg/ml+90mg/ml 250 ml. inj.
Combination of antibiotic (tilmicosin) and non-steroidal anti-inflammatory drug (NSAIDs) (ketoprofen). Indicated for the treatment of Bovine Respiratory Syndrome (SRB) associated with pyrexia caused by Mannheimia haemolytica susceptible to tilmicosin. * See technical datasheet.
Active principles:

Target species:

Calves

Laboratory:

Laboratorios Maymo, S.A.

Prescription:

You need a prescription
Data sheet
Pharmaceutical form

Injectable solution

Administration routes

Subcutaneous via

Dose *

1 ml/ 30 kg p.v.

Withdrawal period

Meat: 93 Days

Contraindications

Non-steroid anti-inflammatory
Horses
Goats
Pigs
Hemorrhagic diatthesis
Blood dyscrasia us
Gastrointestinal diseases
Heart failure
Liver failure
Acute renal failure
Do not use in case of hypersensitivity to the active substance / s or any excipient.
Primates
Cows that produce milk for human consumption
Via intramuscular
Intravenously
* Doses taken from official sources
Veterinarian prescripcion it's needed
Any doubts?
Contactanos por teléfono, WhatsApp o email