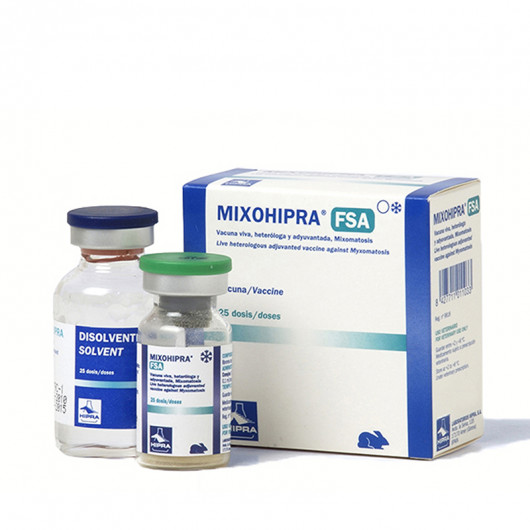 Mixohipra-fsa (25 dosis)
Live heterologous vaccine for active immunization against rabbit myxomatosis virus.
Active principles:

Fibroma shope virus, live attenuated, strain oa

Target species:

Rabbits

Laboratory:

Laboratorios Hipra, S.A.

Prescription:

You need a prescription
Data sheet
Pharmaceutical form

Lyophilized and solvent for injectable suspension

Administration routes

Intradermal way
Subcutaneous via

Dose *

0.50 ml / animal, Via SC, 0,1 ml / animal Via Intradermica

Withdrawal period

Meat: 0 Days

Contraindications

Not described in the technical sheet
* Doses taken from official sources
Veterinarian prescripcion it's needed
Any doubts?
Contactanos por teléfono, WhatsApp o email